High-Speed 3 Axis Stepping Motor Control
Product Announcement from CONTEC Co., Ltd.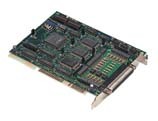 This board is 3 axis stepping motor control board for PC/AT and its compatible machines. Drive control of a stepping motor is performed through the stepping motor drive unit (motor driver) connected to this interface board. This board is used inserting in the expansion slot or I/O expansion unit of the main part of a personal computer. Note it is not connectable with a direct stepping motor from this board. Please be sure to use with the amplifier for motor drivers together.
Function :
Change of speed and an acceleration rate is possible during a pulse output.
There is a starting slow-down point automatic operation function.
An acceleration rate and a slowdown rate can be set up individually. The trapezoid of an asymmetrical form or a triangular drive can be performed.
There is a four points/channel Opto-isolated current drive limit input. It has the function of the starting point (ORG), a slowdown (SS), positive direction (+LIM), and negative direction (-LIM).
There is a Opto-isolated general-purpose input-and-output terminal of four input and output/channel. The use as a scram (ES) is also possible for one input.
Independence and common interruption can be generated at the time of a pulse output stop or an error stop.
---