High Speed Analog w/Simultaneous Sampling
Product Announcement from CONTEC Co., Ltd.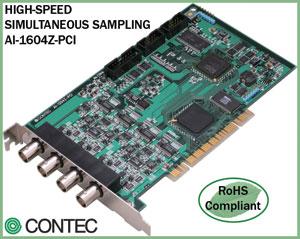 FEATURES
Independent Channels
The four analog input channels function independently of each other. Each can be set to a unique input range and sampling cycle.
Digital Channels
The AI-1204Z-PCI has LVTTL-level digital inputs (x4) and outputs (x4).
Synchronized Expansion
The number of available channels can be expanded with the installation of additional boards. The AI-1204Z-PCI has a synchronized control connector and can provide synchronized control for up to 16 boards installed in one system.
Termination Resistor Selection Function
A 50Ω termination resistor can be set to minimize distortion that can be caused by the reflection of high-speed input signals.
Digital Filter Function
The AI-1204Z-PCI includes a digital filter to prevent erroneous signals due to noise or chattering.
Software-based Calibration
All boards are factory calibrated but individual calibration may be necessary due to the application environment. This calibration can be performed via software.
SPECIFICATIONS
ANALOG INPUT
INPUT CHANNELS
4ch non-isolated, single-ended
INPUT RANGE
Bipolar: ±10V, ±5V, ±2.5V, ±1.25V
Unipolar: 0 to +10V, 0 to +5V, 0 to +2.5V
INPUT RANGE WITH 50Ω TERMINATION SETTING ENABLED
Bipolar: ±5V, ±2.5V, ±1.25V
Unipolar: 0 to +5V, 0 to +2.5V
ABSOLUTE MAXIMUM INPUT VOLTAGE
Power ON: ±13V
Power OFF: ±13V
ABSOLUTE MAXIMUM INPUT VOLTAGE WITH 50Ω TERMINATION SETTING ENABLED
Power ON: ±7V
Power OFF: ±7V
INPUT IMPEDANCE
1MΩ or more
INPUT IMPEDANCE WITH 50Ω TERMINATION SETTING ENABLED
50Ω ±1%
RESOLUTION
12bit
CONVERSION SPEED
100nsec (max)
PASSBAND (-3Db)
10MHz
BUFFER MEMORY
32M data
CONVERSION START TRIGGER
Software, conversion data compare, external trigger and event controller output
CONVERSION STOP TRIGGER
Includes data save complete, conversion data compare, external trigger, event controller output and software
EXTERNAL START / STOP / CLOCK SIGNALS
LVTTL level - Rising or falling edge selectable via software
EXTERNAL STATUS OUTPUT SIGNAL
LVTTL level - Sampling clock output
BUS MASTER
DMA CHANNELS
1ch
TRANSFER BUS WIDTH
32bit
TRANSFER DATA LENGTH
8 PCI Words (max)
FIFO
1K-word
SCATTER / GATHER FUNCTION
64M-Byte
SYNCHRONIZATION BUS
CONTROL OUTPUT SIGNAL
Selected via software when specifying a sync master board
CONTROL INPUT SIGNAL
Sync factor selected via software when specifying slave boards
CONNECTORS (CN3, CN4)
2x PS-10PE-D4LI-B1 (mfg by JAE) or equivalent
GENERAL
DIGITAL I/O CHANNELS
Non-isolated, LVTTL-level, positive logic
4ch input
4ch output
I/O ADDRESS
64 ports x 1,256 ports x 1 region
INTERRUPT LEVEL
Errors and various factors
One interrupt request line as INTA
ANALOG CONNECTOR (CN1)
BNC - DB-414K (mfg by Insert Enterprise) or equivalent
DIGITAL CONNECTOR (CN2)
16pin header
CURRENT CONSUMPTION
5VDC 2500mA (max)
OPERATING TEMPERATURE
0 - 50ºC
OPERATING HUMIDITY
10 - 90%RH (no condensation)
---