High Speed Multi-function – PCI Express
Product Announcement from CONTEC Co., Ltd.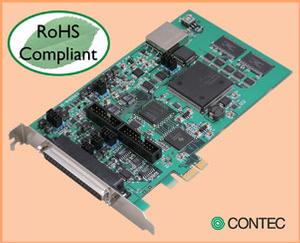 A number of accessories are available to expand functionality of the AIO-161601UE3-PE: amplifier, simultaneous sampling, isolation, thermocouple input, low-pass filter.
FEATURES
High-Speed, High-Precision
Performs analog to digital conversion at 1µsec per channel at 16bit resolution.
Digital Channels
The AIO-161601UE3-PE has four TTL-level digital inputs and four TTL-level digital outputs.
C-LOGGER
The AIO-161601UE3-PE comes with data logger software. Displays recorded signal data, performs zoom measurement, saves files and performs dynamic data transfer to Excel.
Third-party Software Support
Contec supplies dedicated libraries that enable this board to be used with MATLAB® and LabVIEW®.
Software-based Calibration
All boards are factory calibrated but individual calibration may be necessary due to the application environment. This calibration can be performed via software.
SPECIFICATIONS
ANALOG INPUT
INPUT CHANNELS
16ch non-isolated, single-ended
8ch non-isolated, differential
INPUT RANGE
Bipolar: ±10V, ±5V, ±2.5V, ±1.25V
Unipolar: 0 to +10V, 0 to +5V, 0 to +2.5V
INPUT RANGE WITH 50Ω TERMINATION SETTING ENABLED
Bipolar: ±10V, ±5V
Unipolar: 0 to +10V, 0 to +5V
ABSOLUTE MAXIMUM INPUT VOLTAGE
±15V
INPUT IMPEDANCE
1MΩ or more
RESOLUTION
16bit
CONVERSION SPEED
1µsec/ch (max)
BUFFER MEMORY
16M Word FIFO or RING
CONVERSION START TRIGGER
Software, input data compare and TTL-level external signal
CONVERSION STOP TRIGGER
Includes specified sampling data stored, input data comparison, TTL level external signal and software
ANALOG OUTPUT
OUTPUT CHANNELS
1ch non-isolated output
OUTPUT RANGE
Bipolar: ±10V
Unipolar: 0 to +10V
OUTPUT CURRENT ABILITY
±5mA
OUTPUT IMPEDANCE
1Ω or less
RESOLUTION
16bit
CONVERSION SPEED
10µsec (max)
GENERAL
DIGITAL I/O CHANNELS
Non-isolated,TTL-level
4ch input - counter control input or common use selectable via jumper
4ch output - counter output selectable via jumper
COUNTER DEVICE
i8254 equivalent
COUNTER CLOCK
Internal (4MHz) or external signal
I/O ADDRESS
Any 32-byte boundary
INTERRUPT
1 level use
ANALOG CONNECTOR (CN1)
37pin D_SUB
CONTROL SIGNAL CONNECTOR [DIGITAL I/O, COUNTER] (CN2)
16pin header
POWER CONSUMPTION
+3.3VDC 2000mA (max)
OPERATING TEMPERATURE
0 - 50ºC
OPERATING HUMIDITY
10 - 90%RH (no condensation)
You have successfully added from to your part list.
---