Isolated 16-bit Analog PCI Express Input Board
Product Announcement from CONTEC Co., Ltd.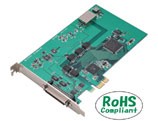 This product is a PCI Express bus-compliant interface board used to provide an analog signal input function on a PC. It features bus isolated 16-bit analog input 16 channels. Equipped with digital I/O and counter, this product is multifunction and bus isolated type that provides isolation between PC and external analog I/O circuit. This product carries buffer memory for 1K of data, allowing sampling to be performed in a variety of trigger / clock conditions. Windows/Linux driver and full-fledged data logger software [C-LOGGER] is bundled with this product.
Environment Compliancy :
RoHS Directive;
Function :
This product has analog input (10uSec / channel, 16-bit, 16 channels), analog input control signal (TTL level 3 channels), digital I/O (each 4 channels for TTL level), counter (32-bit, TTL level 1 channel).
The functions same with PCI compatible board ADI16-16(LPCI)L are provided. In addition, as there is compatibility in terms of connector shape and pin assignments, it is easy to migrate from the existing system.
Isolation between PC and external analog input circuit by a digital isolator improves noise performance.
You can select from software, comparison of conversion data or an external trigger to control the start of sampling. You can select from completion of sampling for a specified number of sessions, comparison of conversion data, an external trigger or software to control the end of sampling. The sampling cycle can be selected from the internal clock or an external clock.
The analog input block contains buffer memory (1K data) that can be used in the FIFO or RING format. This allows for background analog I/O that does not depend on the operation status of the software or PC.
---