Rack-Mount/Desk-Top PanelLink FLAT PANEL DISPLAY
Product Announcement from CONTEC Co., Ltd.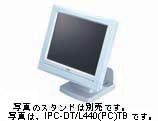 IPC-DT/L440(PC)TA is the wall tapestry and table (option) type 12.1 inch TFT color liquid crystal display machine of Panel Link specification. It is connectable with CONTEC box computer and a single board computer (SBC) with a Panel Link interface.
Function:
An extensive view angle and the liquid crystal in which 262,144 high luminosity type color displays are possible are equipped.
It corresponds to a wall tapestry and desk both with a thin shape with a thickness of 35mm. A quick response analog touch panel is equipped.
Even 5m even of cable length can be used by Panel Link I/F adoption.
AC adapter [IPC-ACAP12-01] is prepared as an option so that it can be used with AC power supply.
The stand kit [IPC-SND-02] for using it on a desk is prepared as an option.
---