Smallest in Class Switching HUB For Embedded Use
Product Announcement from CONTEC Co., Ltd.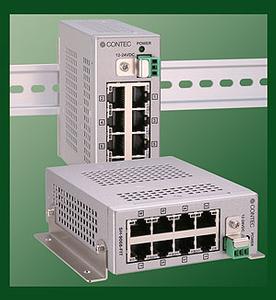 The Auto-MDI/MDI-X feature distinguishes between straight and cross cable installations thereby avoiding errors due to wiring mistakes.
The GSH-9008-FIT supports jumbo frames (9,000 bytes) allowing high speed transmission and can connect directly to the machinery that utilizes jumbo frames.
A DIN rail installation mechanism is supplied as a standard feature. It also includes metal mounting brackets and rubber foot for flexibility in installation.
FEATURES
Eight ports, auto-switching 10BASE-T/100BASE-TX/1000BASE-T.
Supports jumbo frames
Auto-MDI/MDI-X function
Includes DIN rail installation mechanism
Supports a wide range of power supplies 12-24VDC
SPECIFICATIONS
ETHERNET STANDARDS - IEEE802 / IEEE802.3u / IEEE802.3ab
DATA TRANSFER RATE - 10Mbps / 100Mbps / 1000Mbps (auto-recognition)
ACCESS METHOD - DSMA/CD
COMMUNICATIONS METHOD - All ports: full/half duplex (auto-switching)
TOPOLOGY - Star topology
FLOW CONTROL - Full duplex: IEEE802.3x compliant / Half duplex: Back pressure
NUMBER OF EFFECTIVE PORTS - 8
SWITCHING METHOD - Store and forward
ADDRESS TABLE - 8,192 entries
JUMBO FRAMES - 9.6Kb
BUFFER CAPACITY - 176Kb
AGING TIME - 300 sec (max)
LED INDICATORS - Power (green) / Link/ACT 10 (yellow) / Link/ACT 100 (green) / Link/ACT 1000 (green)
RATED INPUT VOLTAGE - 12V – 24V ±5%
CURRENT CONSUMPTION - 12VDC – 0.6A / 24VDC – 0.4A
EXTERNAL DIMENSIONS - 39mm (w) x 120mm (d) x 94mm (h)
WEIGHT - Hub only – 360g / Hub with DIN rail mechanism – 410g
OPERATING TEMPERATURE - 0 to 50°C
STORAGE TEMPERATURE — -10 to 60°C
HUMIDITY - 10 to 90%RH (no condensation)
GROUNDING - Class D (previous Class 3)
CONTEC's GSH-9008-FIT is lead-free (exceeding JEITA Phase 2 requirements) and RoHS-compliant.
---