Ultra-Slim, Fanless Box PC
Product Announcement from CONTEC Co., Ltd.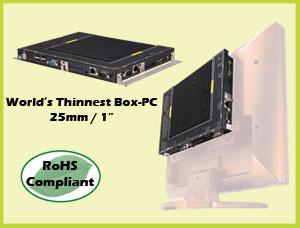 Since 1993 CONTEC has been designing and manufacturing fanless box-style computers. The top surface of the BX950 has an extremely efficient aluminum heat sink. To augment the heat sink's cooling capability the cover was designed with an open grid allowing heat to effectively escape. This unique heat dissipation design enables this ultra-thin system to be installed with minimal clearance.
The thinness of CONTEC's BX950 Systems makes them ideal for mounting on the wall, ceiling or floor. Although the effectiveness of a system's heat dispersion can vary according to its installation, recommended installation information is included for all acceptable variations. This information for varied installations was verified with repeated tests.
CONTEC's BX950 utilizes a dual compact flash arrangement for the operating system and data collection. This, along with the elimination of the system's cooling fan, makes these systems energy efficient, easily maintained and noise-free. These Box PCs deliver increased efficiency while offering versatile and thin computing alternatives.
FEATURES
CAN BE INSTALLED IN SPACES AS NARROW AS 35MM
25mm chassis height requires only 10mm of clearance
DESIGNED AROUND 945GME CHIPSET FROM INTEL®
Use of Intel® Core Duo processor provides user with high-level computing and graphic capabilities.
INTERFACES INCLUDE DUAL GIGA-LAN, 4 x USB2.0, TWIN BOOTABLE CF CARD SLOTS
SUPPORTS A WIDE RANGE OF POWER SUPPLIES (12 - 24VDC)
SPECIFICATIONS
CPU
IPC-BX950TI-DC500: Low Voltage Intel® Core Duo Processor 1.20GHz), FSB533MHz
IPC-BX950T2-DC400: Ultra Low Voltage Intel® Celeron M Processor (1.06GHz), FSB533MHz
CHIP SET

BIOS
MEMORY
PC2-4300 (DDR2 533) SDRAM
IPC-BX950TI-DC500: 1GB, 200pin SO-DIMM socket x1
IPC-BX950T2-DC400: 512MB, 200pin SO-DIMM socket x1
VIDEO
Controller - Built-in 945GME
Video RAM - Main memory shared
Video BIOS - 64KB (C0000H - CFFFFH)
Display I/F - Analog RGB x1 (15pin HD-SUB connector) / LVDS x1 (26pin half-pitch connector)
AUDIO
Output: Line OUT x1 (Stereo full-scale output level 1.5Vrms, Dual 50mW amplifier)
COMPACT FLASH SLOT
SERIAL I/F
RS-232C: 2ch (Port1, 2), 9pin D-SUB connector
Baud Rate: 50 - 115,200bps
For touch panel communication: 1ch (Port3) in LVDS connector
LAN
2x 1000/100/10Mbps (RJ-45 connector)
Wake on LAN support
Controller: Intel 82573L
USB
WATCHDOG TIMER
1 - 255sec; 255 level
Reset at time up
HARDWARE MONITOR
Monitors CPU and board temperature, power supply voltage
RTC/CMOS
Lithium backup battery MTBF: 10 years @25ºC
Realtime clock: Accurate to less than 3min / month @25ºC
POWER MANAGEMENT
Setup via BIOS
Modem Ring On / Wake On LAN
Supports PC98/PC99 ACPI power management
POWER SUPPLY
Input voltage: 12 - 24VDC ±5%
Power consumption 12VDC: 3.4A (max)
Power consumption 24VDC: 1.9A (max)
External device power capacity
CF card slot: +3.3V, 1A (500mA x2)
USB I/F: +5V, 2A (500mA x4)
DIMENSIONS
256mm (w) x 183mm (d) x 25mm (h)
WEIGHT
OPERATING TEMPERATURE
Vertical installation - power cord at bottom: 0 - 50ºC
Vertical installation - power cord elsewhere: 0 - 45ºC
STORAGE TEMPERATURE
OPERATING HUMIDITY
10 - 90%RH (no condensation)
FLOATING DUST PARTICLES
---