Product Announcement from CST - Computer Simulation Technology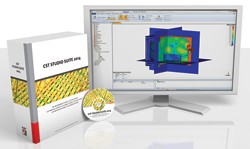 With new features and technological advances, the 2014 version of electromagnetic (EM) simulation software tool CST STUDIO SUITE® offers users a more efficient approach to designing both individual components and full systems. As designs become more complex and development cycles become shorter, CST STUDIO SUITE is becoming indespensible for the design, simulation and optimization of a wide range of devices.
The 2014 version builds upon the three pillars of CST's products: accuracy, speed and usability.
Accuracy
CST continues to advance their solver technology and refine modeling and meshing techniques in order to provide users with accurate simulation results. System Assembly and Modeling (SAM) allows different solvers to be combined in a single simulation project and can be used to model complex systems one component at a time. New algorithms for the hexahedral, tetrahedral and TLM meshes have also been introduced to reduce the mesh cell count and to help discretize complex or low-quality CAD data.
Speed
A multitude of hardware-based acceleration options are available in the 2014 version through improved High Performance Computing (HPC) capabilities. GPU and CPU computing can be used together for enhanced performance and cluster computing (MPI) has been made more efficient. Through improved meshing and solver technology CST has made simulation times faster without compromising on accuracy.
Usability
The user interface of CST STUDIO SUITE is important to facilitate smooth workflows. The 2014 version introduces the possibility to import, manipulate and export model data to and from other tools while upgrades to data visualization tools help to make the processing of data easier. For large teams, the introduction of version control lets users keep track of changes to various model files. The simulation of complex systems has also been improved with field source coupling and multiphysics simulations able to be set up automatically using the new SAM wizards.
CST STUDIO SUITE comprises of multiple modules for high frequency, low frequency, charged particle and multiphysics applications. To discover how EM simulation is used in practice, stream our 'CST Update Webinar Series' which includes several worked examples categorized according to application area: https://www.cst.com/2014webinar
Find out more at https://www.cst.com.
Trademarks
CST, CST STUDIO SUITE, CST MICROWAVE STUDIO, CST EM STUDIO, CST PARTICLE STUDIO, CST CABLE STUDIO, CST PCB STUDIO, CST MPHYSICS STUDIO, CST MICROSTRIPES, CST DESIGN STUDIO, CST BOARDCHECK, PERFECT BOUNDARY APPROXIMATION (PBA), and the CST logo are trademarks or registered trademarks of CST in North America, the European Union, and other countries. Other brands and their products are trademarks or registered trademarks of their respective holders and should be noted as such.
Connect with CST |XING | LinkedIn | Twitter | YouTube | Facebook | Google+ | Blog
You have successfully added from to your part list.
---