Product Announcement from CST - Computer Simulation Technology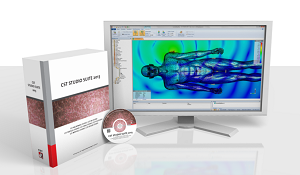 The electromagnetic (EM) simulation software CST STUDIO SUITE® offers leading edge computational solutions to electromagnetic design challenges. In our 2013 release, we have integrated specialized features to better accommodate the needs of engineers. With a new design environment, CST STUDIO SUITE has been enhanced to guide users through simulation projects with ease. A highly adaptable project wizard and a Ribbon-based GUI creates a fluid workflow, which together with optimized solver technology, ensures usability and performance without compromise.
Design Environment
CST STUDIO SUITE benefits from an integrated design environment which gives access to its entire range of solver technology. This was developed in response to the growing demand for coupled problems and co-simulation. The intuitive and easy-to-use graphical user interface is common to all of the CST 3D simulators. Several projects can be opened simultaneously in a single front-end using the multiple document interface.
Complete Technology
Simulation performance is strongly dependent on choosing the optimal solver. The Complete Technology approach of CST STUDIO SUITE enables you to choose between different solvers within one single user interface and without changing the model and parametric settings. This means you can choose the most appropriate method for each problem, thus minimizing your simulation run time.
Users of CST STUDIO SUITE can enjoy considerable product to market advantages such as shorter development cycles with virtual prototyping before physical trials and optimization instead of experimentation.
CST STUDIO SUITE consists of the following modules:
CST MICROWAVE STUDIO® (CST MWS) is the leading edge tool for the fast and accurate 3D simulation of high frequency devices. Application areas include Microwaves & RF, EDA/Electronics, and EMC/EMI.
CST EM STUDIO® (CST EMS) is an easy-to-use tool for the design and analysis of static and low frequency EM applications such as motors, sensors, actuators, transformers, and shielding enclosures.
CST PARTICLE STUDIO® (CST PS) is a highly specialized product for the fully consistent simulation of free moving charged particles. Applications include electron guns, cathode ray tubes, magnetrons, and wake fields.
CST CABLE STUDIO® (CST CS) is used for signal integrity and EMC/EMI analysis of cable harnesses.
CST PCB STUDIO® (CST PCBS) is used for the simulation of signal and power integrity and EMC/EMI on printed circuit boards.
CST MPHYSICS STUDIO® (CST MPS) is used for thermal and mechanical stress analysis.
CST DESIGN STUDIO™ (CST DS) is a versatile tool that facilitates 3D EM/circuit co-simulation and synthesis.
Trademarks
CST, CST STUDIO SUITE, CST MICROWAVE STUDIO, CST EM STUDIO, CST PARTICLE STUDIO, CST CABLE STUDIO, CST PCB STUDIO, CST MPHYSICS STUDIO, CST MICROSTRIPES, CST DESIGN STUDIO, PERFECT BOUNDARY APPROXIMATION (PBA), and the CST logo are trademarks or registered trademarks of CST in North America, the European Union, and other countries. Other brands and their products are trademarks or registered trademarks of their respective holders and should be noted as such.
You have successfully added from to your part list.
---