Complete Technology for 3D EM Simulation
Product Announcement from CST - Computer Simulation Technology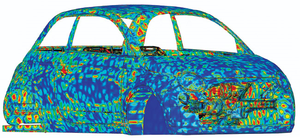 Why is it important to have a complete solution for your electromagnetic (EM) simulation project? Simulation performance is strongly dependent on solver selection and no one method is perfect for every project. With CST's Complete Technology approach, users have easy access to a palette of solvers through a common user interface.
Time domain and frequency domain simulation are often seen as competing methods, but both have their advantages and disadvantages. Time domain is well-regarded for its ability to solve large, complex or broadband problems, whereas frequency domain – using tetrahedral instead of rectangular gridding – can approximate detailed models and simulate resonant systems well. CST has developed both technologies over the years, but neither approach can tackle all applications. Instead CST STUDIO SUITE® offers both approaches, complemented by specialized solvers.
Through this Complete Technology approach, the selection of the most appropriate solver for any given problem is made easy through their availability in one user interface. This delivers improved simulation performance and unprecedented simulation reliability through cross verification.
High Frequency Solvers
Low Frequency Solvers
Particle Dynamics Solvers
MPhysics Solvers
Another advantage of the Complete Technology approach is that the addition of more solvers is far more economical than buying, installing and learning a whole new package.
Learn more about CST's electromagnetic simulation software at cst.com.
Trademarks
CST, CST STUDIO SUITE, CST MICROWAVE STUDIO, CST EM STUDIO, CST PARTICLE STUDIO, CST CABLE STUDIO, CST PCB STUDIO, CST MPHYSICS STUDIO, CST MICROSTRIPES, CST DESIGN STUDIO, PERFECT BOUNDARY APPROXIMATION (PBA), and the CST logo are trademarks or registered trademarks of CST in North America, the European Union, and other countries. Other brands and their products are trademarks or registered trademarks of their respective holders and should be noted as such.
Connect with CST |XING | LinkedIn | Twitter | YouTube | Facebook | Google+ | Blog
CST - Computer Simulation Technology develops and markets high performance software for the simulation of electromagnetic fields in all frequency bands.
---