Low Frequency Electromagnetic Design & Simulation
Product Announcement from CST - Computer Simulation Technology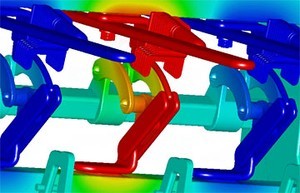 CST EM STUDIO® (CST EMS) is dedicated to the simulation of static and low frequency devices. Embedded in the same user-friendly CST DESIGN ENVIRONMENT™, CST EMS features a variety of solver modules to tackle electrostatics, magentostatics, current flow, low frequency and even stationary temperature problems.
Applications include: actuators, brakes, EMC, generators, motors, sensors, transformers measurement instrumentation, and shielding effects.
Users can select from a wide range of solver modules which can be included in a multi-physics design flow via CST MPHYSICS STUDIO® (CST MPS):
Results can be transferred from one solver to another in order to simulate coupled problems.
Learn more about CST's electromagnetic simulation software at cst.com.
Trademarks
CST, CST STUDIO SUITE, CST MICROWAVE STUDIO, CST EM STUDIO, CST PARTICLE STUDIO, CST CABLE STUDIO, CST PCB STUDIO, CST MPHYSICS STUDIO, CST MICROSTRIPES, CST DESIGN STUDIO, PERFECT BOUNDARY APPROXIMATION (PBA), and the CST logo are trademarks or registered trademarks of CST in North America, the European Union, and other countries. Other brands and their products are trademarks or registered trademarks of their respective holders and should be noted as such.
CST - Computer Simulation Technology develops and markets high performance software for the simulation of electromagnetic fields in all frequency bands.
Connect with CST |XING | LinkedIn | Twitter | YouTube | Facebook | Google+ | Blog
---