Eco Brazing Diamond Grinding Discs
Product Announcement from CS UNITEC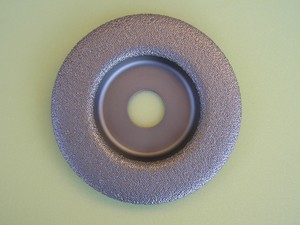 CS Unitec's Eco Brazing (EB) diamond grinding discs reduce sparking up to 1 percent of that produced by resinoid wheels, making these discs a better choice for use in hazardous environments such as nuclear plants and oil and gas industries. Reduced sparking decreases the fire hazard from sparks and also increases the visibility of the workpiece, allowing more accurate grinding.
The EB diamond grinding discs are ideal for grinding steel, stainless steel and other materials. The diamond grit protrudes higher off the EB diamond disc than traditional diamond wheels, providing greater durability and longer service life. Available in grits 30, 40, 50, 60 and 80 on disc sizes 4", 4-1/2" and 7" in diameter, the disc's light weight allows for high-rotation grinding on portable angle grinders. Additionally, its high-yield steel backing plate is elastic, helping to ensure that operators do not grind the material by over removal. The EB diamond wheel wears approximately 1 percent as much as a resinoid wheel, therefore increasing the tool life and significantly reducing the amount of abrasive dust emitted.
You have successfully added from to your part list.

Play Eco Brazing Diamond Grinding Discs Video
---