Cablevey Conveyors Loop System
Product Announcement from Cablevey Conveyors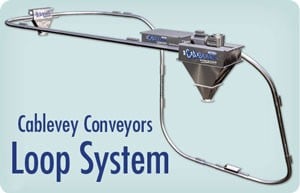 A tubular drag conveyor with discs and cable moves your materials quietly and gently. If your materials are friable and require care to avoid breakage you already know you need an alternative to vacuums and pneumatic systems. If you've received complaints about "dust flying everywhere!" you need an enclosed system.
Have you considered a tubular drag conveyor? Our customers are successfully moving almonds, pistachios, rice blends, spices, roasted whole bean coffee and more without compromising the integrity of their well-thought-out blends.
Consider Cablevey Conveyors - The Gentle Way to Convey
***********************************************
***********************************************
To facilitate getting you an accurate quotation we will need the following information:
Company
Contact
Address
Phone
Fax
Email
Installation Site
Application Specifications

Product to be conveyed
Will you convey other products in this system?
Bulk density of product
Particle Size
Major product characteristics
Moisture content
Temperature of
Flowability of product
Abrasiveness
Maximum Required Capacity
Transfer operation
Product to be fed to conveyor by ...
Construction specifications
Motor Specifications
System Layout
Number of Inlets
Number of Discharge Points
Quotation needed by
Quotation will be used for Formal Proposal, Budgetary Number or Ball Park Pricing
Special notes regarding system
Installation Date
You have successfully added from to your part list.
---