Gentle Conveying of Animal & Pet Foods
Product Announcement from Cablevey Conveyors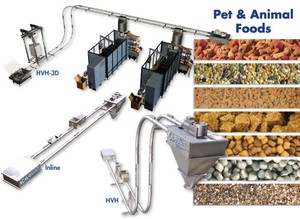 Cable conveyors - using aircraft-grade quality stainless steel strands are setting a new standard for gentle conveying.
The integrity of dry food needs to be maintained throughout the various conveying stages. Cable and discs provide a good alternative to bucket elevators and energy-intensive aeromechanical, pneumatic and vacuum processes.
The highly efficient Cablevey cable and discs drag your materials inside the internal tubes safely to the next process point while its urethane clean-out disc captures fines and dust to discharge each round.
The Cablevey system offers customized points for hopper inlets, discharge and each system includes an inspection tube to view pet food as it is progressing through your system. A tensioning turnaround unit can be opened for inspection and cleaning - and the flexible tubular systems can be modified to accommodate your unique facility.
Cablevey systems are designed specifically for the individual client and offer many options in layout, length and size. Any design configuration that is required can be accommodated.
---