Cables for Robotics Application
Product Announcement from Calmont Wire & Cable, Inc.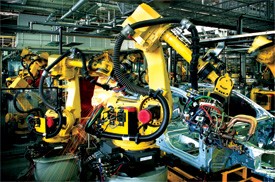 Calmont manufactures cables for robotics applications by extruding specially compounded materials over ultra-fine, high strength alloy, stranded wire. Whether your application requires a unique composite cable consisting of twisted pairs, triads, and coaxial cables, or you simply require ultra flexible hookup wire, Calmont can help.
Silicone rubber adds superior chemical resistance, and polyurethane jacketing protects against abrasion, oil, notching, microbes and hydrolysis. Smooth surfaces prevent adhesion to adjacent cables.
Calmont's robotic cables may be used with or without cable track and may be flat or round constructions.
Typical applications for robotic cable include:
Welding Robots
Painting Robots
Rotary Tables
Pick and Place Devices
Conveyor Systems
Animatronics
---