SuperFlex Wire & Cable - Litz Wire
Product Announcement from Calmont Wire & Cable, Inc.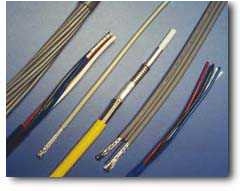 SuperFlex Wire & Cable is a "high tech" product pioneered and developed by Calmont for the exacting commercial and military markets. Specially compounded and plasticized polyvinyl chloride insulations applied over ultra fine stranded wire yields a finished wire with a longer flex life and a higher flexure index level than that attainable with ordinary PVC insulated wire.
SuperFlex construction is available with Nylon as a jacket or insulation replacement for the standard PVC. This provides increased impact and tensile strength which only can be realized through the use of Nylon.
SuperFlex wire and cable insulated with polyethylene is also available. Polyethylene offers good electricals at a low cost insulation. The dielectric constant of 2.3 and dissipation factor of 0.0002 are stable from 60 Hz to 106 MHz
Calmont is your first source for Litz Wire, with or without EMI shielding. For applications requiring high current, high frequency propagation with a minimum of power loss, Litz Wire is likely the ideal choice. Made from a high number of fine, separately insulated strands specially braided or woven together for reduced skin effect and hence lower resistance to high frequency currents for lower RF losses, Calmont can offer your custom design with a variety of insulating and jacketing materials.
Applications:
One of the best products for high flex life and high strength applications, including: critical life support monitoring, sensor leads, and the continuous flexing in computer peripheral equipment
Telecommunications, dental technology, biological research, test leads and vital ground support systems
Need some help? Click here for Cable Design Helper.
Abount Calmont:
We are a manufacturer of wire and cable for medical, aerospace and other precision applications requiring a custom design.
Calmont specializes in wire and cable that is ultra-flexible and miniature.
Corporate Head Office / Factory
Calmont Wire and Cable
420 East Alton Avenue,
Santa Ana, California 92707
Phone: (714) 549-0336
Fax: (714) 549-4028
E-mail: calsales@calmont.com
---