Ultraflexible Wire & Cable
Product Announcement from Calmont Wire & Cable, Inc.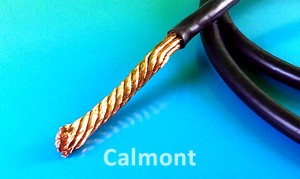 Calmont has expertise in designing and manufacturing ultraflexible wire and cable. We combine the right design with the right choice of conductor and compound to produce wire and cable that will fit your application and last.
Some of the industries that commonly require ultraflexible wire and cable are: medical, robotics, aerospace, sensors, test & measurement, and instrumentation.
We use conductors with high strand counts to achieve maximum flexibility with improved flex life.
SiliFlex - SiliFlex is distinguished by its extreme limpness and flexibility. It is the most limber of all the high flex products offered by Calmont. Silicone rubber insulation compounds are inherently soft and pliable and resist the plastic flow that characterizes many insulation systems. Silicone compounds can be tailored to meet a variety of demands such as extreme high and low temperature requirements, flame resistance, flexibility, radiation resistance, strength and purity. SilifFlex is used extensively for robotic, aerospace and medical applications.
---