Vitamin E for Stabilizing Thermoplastics
Service Detail from Cambridge Polymer Group, Inc.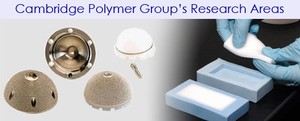 Vitamin E Characterization
Vitamin E has become a preferred antioxidant for stabilizing thermoplastics such as ultra high molecular weight polyethylene (UHMWPE). CPG scientists have developed several testing assays to quantify Vitamin E in thermoplastics, and characterize the transformation products of Vitamin E after thermal and radiation exposure.
Injectable Hydrogels for Nucleus Augmentation
CPG scientists have developed a formulation of hydrogel that can be injected as a liquid into the nuclear cavity of the spine to restore biomechanical function of a collapsed spinal unit. The liquid hydrogel will fully gel into a permanent hydrogel in vivo without chemical reaction or heat generation. Go to the presentations page for more information.
Injectable Hydrogels for Tissue Augmentation
CPG scientists have developed a formulation of hydrogel that can be used to reinforce human tissue, acting as a bulking agent. In collaboration with the Massachusetts General Hospital, this hydrogel has been used to treat animals showing mitral valve regurgitation. Additionally, CPG is investigating the use of this formulation for urinary incontinence and gastroesophageal reflux disease (GERD). The formulation can be injected through a long, narrow gauge catheter, and will gel up in vivo without a chemical reaction. Contact us for more information.
FTIR Analysis of Crosslinked Polyethylene
Radiation-crosslinking of ultra-high molecular weight polyethylene components has been shown to increase the wear properties of these materials when used in total hip and knee replacements. It is essential to know the uniformity of the dose across the thickness of an irradiated component, and useful to know the dose received by the component. CPG has developed a technique using Fourier-transform infra-red spectroscopy to measure these parameters in in vivo and shelf-aged components. This technique also yields the degree of oxidation in aged component. See application note #002 for more details.
Accelerated Aging of Polymers
CPG performs accelerated aging protocols for assessment of long-term storage conditions of polymeric devices. We use standardized oxygen bomb or convection oven protocols, or develop custom protocols for individual projects, and often work with Q10 development according to ASTM standard F1980-02. CPG can also measure oxygen content in packaging.
Biomedical Product Recalls
Scientists at CPG have been involved with several product recalls, including catheters and orthopedic components. We help to identify the cause of failure, and assist in improving processing conditions or material properties to avoid future failures. Our testing facilities provide data needed for FDA compliance and re-entry into the marketplace. Contact one of our scientists for more details.
Cleanliness of Biomedical Components
CPG is active in research activities involving issues of cleanliness in biomedical devices. Our scientists worked with Sulzer Orthopedics on the InterOp voluntary recall in 2000 in an attempt to determine the root cause of failure in the devices. We consult with several medical device companies on cleanliness issues, and are involved with ASTM activities involving cleanliness of biomedical devices
Bone Cement Characterization
We routinely characterize PMMA-based bone cement for clients for product development as well as 510(k) applicaitons. We have developed a quantitative analysis technique to monitor the cure properties of acrylic bone cement. Through the use of multi-harmonic oscillatory rheometry, the viscosity, dynamic modulus, temperature, volumetric shrinkage, and relaxation behavior is measured as a function of cure time. Portions of this technique are now included in ASTM F451. We have also developed a new titration assay to assess benzoyl peroxide content in acrylic bone cements.
Crosslink Density in Irradiated Polyethylene
Using the SRT-1™, swell ratio measurements were performed on cross-linked ultra high molecular weight polyethylene samples to determine the relationship between crosslink density and molecular weight distribution.
Rheology of Biofluids
CPG's custom designed CaBER® has been used to examine the properties of biologically relevant fluids, such as synovial fluid and bovine serum. The small quantities of fluid required (<0.1 ml) and the flow conditions experienced by these materials, which are often extensional in nature, makes the CaBER® an ideal instrument platform for this process.
Radiopacity Measurements
CPG performs quantitative radiopacity measurements of medical devices in accordance with ASTM F640. Go to CPG's blog for more details on this technique.
Hydrogel Formulations
CPG has developed hydrogel formulations for use in many biomedical applications. Gels can be formed in vivo or externally with a variety of properties.
Synthetic Tissue
CPG is developing arterial analogs that mimick healthy and diseased blood vessels for product development, equipment validation and procedure training. We design custom tissue models based on client specifications, incorporating mechanical properties and geometry. Go to our application notes page for more information.
About Cambridge Polymer Group, Inc. ("CPG")
Cambridge Polymer Group, Inc. ("CPG") is a contract research laboratory that specializes in providing polymeric materials services for clients worldwide. Headquartered in Boston, MA, our researchers are experts in a broad range of scientific fields, including chemical, electrical, biomedical and mechanical engineering, materials science, and biology. For over 15 years, we have provided a single source solution for polymeric research. CPG's core competencies include property enhancement, test methodology development, radiation chemistry, rheology, failure analysis and blends formulations. Our work can be found in a range of industries including biomedical, resin manufacturers and processors, consumer products, gels, adhesives, food products, and inks.
The services and products we offer range from full service consultation on material development to providing more traditional testing results. We offer a line of analytical instruments for polymer characterization and can design custom instrumentation for clients.
Vertically Oriented Client Assistance
We are your premier contract research resource solving problems with our multi-disciplinary research team and full service laboratory. We provide routine analytical testing on materials, custom test design, consultation, and out-sourced assistance for translational research.
We assist clients in developing new materials, design of prototypes for proof-of-concept studies, experimental design and data collection for patents and fund-raising, and development of new materials for targeted applications. We have specific expertise in hydrogels and medical device cleanliness. For problem-solving with your materials, we are a full-service, ISO 9001 certified CRO.
---