Product Announcement from Cambridge Polymer Group, Inc.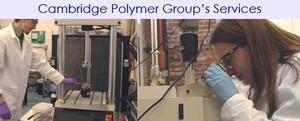 With years of expertise in these testing parameters, we do more than furnish our clients with raw results. We act as your partner throughout the process. We suggest the appropriate battery of tests, and assist in building the test methodology. Our reports contain a detailed description of the work conducted and provide interpretation and opinions on the obtained results when appropriate. Test methods can be transferred to the client for in-house quality control.
Shear and extensional rheological characterization

Scanning electron microscopy (SEM), transmission electron microscopy (TEM)

Differential scanning calorimetry (conventional and modulated), infra-red spectroscopy (conventional and micro), dynamic and static surface tension, gel permeation chromatography, swelling analysis, gas and liquid chromatography with mass spectroscopy

Accelerated aging protocols, packaging analysis, device cleanliness studies, failure analysis, sterilization procedures, oxygen content, Vitamin E characterization

Dynamic mechanical analysis (DMA), tensile testing, compression testing, creep testing
For a partial list of ASTM standards performed by Cambridge Polymer Group, please see ASTM Standards.
Cambridge Polymer Group provides testing services of polymeric materials with state-of-the- art instrumentation. Tests can be conducted under our Good Laboratory Practices Protocol (GLP).
Quality assurance
Lot-to-lot verification
Process validation
Diagnostic testing
Root Cause Analysis
Chemical structure of material
Phase transitions
Thermal or mechanical degradation
Structure-property correlation
Prediction and optimization of processing conditions
About Cambridge Polymer Group, Inc. ("CPG")
Cambridge Polymer Group, Inc. ("CPG") is a contract research laboratory that specializes in providing polymeric materials services for clients worldwide. Headquartered in Boston, MA, our researchers are experts in a broad range of scientific fields, including chemical, electrical, biomedical and mechanical engineering, materials science, and biology. For over 10 years, we have provided a single source solution for polymeric research.
CPG's core competencies include property enhancement, test methodology development, radiation chemistry, rheology, failure analysis and blends formulations. Our work can be found in a range of industries including biomedical, resin manufacturers and processors, consumer products, gels, adhesives, food products, and inks.
The services and products we offer range from full service consultation on material development to providing more traditional testing results. We offer a line of analytical instruments for polymer characterization and can design custom instrumentation for clients.
Vertically Oriented Client Assistance
We are your premier contract research resource solving problems with our multi-disciplinary research team and full service laboratory. We provide routine analytical testing on materials, custom test design, consultation, and out-sourced assistance for translational research. We assist clients in developing new materials, design of prototypes for proof-of-concept studies, experimental design and data collection for patents and fund-raising, and development of new materials for targeted applications. We have specific expertise in hydrogels and medical device cleanliness. For problem-solving with your materials, we are a full-service, ISO 9001 certified CRO.
You have successfully added from to your part list.
---