6200H Family of High Speed Galvanometers
Product Announcement from Cambridge Technology, Inc.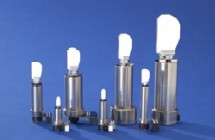 The latest in Cambridge Technology's advances in galvanometer technology, the 6200H series combines their new moving magnet actuator technology and their innovative patented advanced optical position detector design. This combination offers the highest torque per watt and closed loop bandwidths, resulting in the highest positioning speed and precision accuracy in any compact, lower cost closed loop galvanometer available in today's market. The 6200 series scanning systems can be configured and optimized for speed, size, cost and accuracy with typical beam diameters in the 1 to 75 mm ranges. The series is offered in several different connector and cable options to meet specific system requirements.
Features of the 6200 Closed Loop Galvanometer Family
Highest Galvo Speeds and Step Response Times: The 6200H series' positioning speed comes from advanced galvanometer and new actuator design for the highest system resonant frequency and RMS power capability. The newest design of the actuator features extremely high torque along with very little electrical inductance, thus providing high scanner speeds at reduced power supply voltages. These characteristics combine to produce superior system bandwidths, the fastest step response times and the highest repetition rates with excellent wobble and jitter performance.
Maintaining Position Accuracy and Repeatability at High Speeds: CTI's newest innovation in position accuracy is the advanced optical position detector, which was designed to provide high positioning repeatability, linearity and stability over time and temperature while operating at high speeds.
High System Performance and Reliability Over Time: Superior product lifetime and reliability result from disciplined design technique, the best in bearing technology and quality manufacturing processes and workmanship. Their scanner designs are computer modeled and have been life-test proven to billions of cycles of operation. CTI's high standards of manufacturing quality guarantees the performance consistency that you need to design the high quality systems demanded in today's competitive marketplace.
You have successfully added from to your part list.
---