Why 3-Axis Scanning?
Product Announcement from Cambridge Technology, Inc.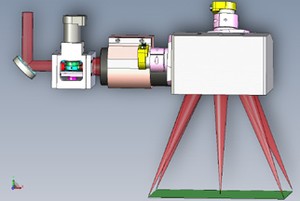 As the number of large area, web feed and remote applications that use laser processing is growing exponentially, Cambridge Technology's 3-Axis Scanning Systems are gaining more and more popularity in the marketplace due to their:
large field of view
small spot size
ability to scan pre-defined 3D surfaces
ability to use high power lasers
Compared to mechanical processes, laser processing using 3-Axis Scanning provides improved flexibility, quality, setup time and throughput. The advantages of 3-Axis Scanning Systems are particularly apparent in converting applications such as cutting, marking, welding, perforating, slitting, trepanning, drilling, and surface treatments. The diversity of commercially available lasers enable processing of a variety of materials such as paper, cardboard, plastic, glass, metal, textile, foil and more.
Large Field of View
3-axis Scanning Systems are primarily used for scanning large field two-dimensional surfaces where field flattening lenses are no longer practical. By placing the focusing lenses before the scan head, the size of the optical elements become independent of the field size. This flexible design allows Cambridge Technology 3-Axis Scanning Systems to be readily configured for a wide range of field sizes with a single, economical lens set.
Small Spot Size
The dynamic focus module is used as the standard third axis in Cambridge Technology 3-Axis Scanning Systems in order to create beam waists to be imaged by the objective optics. This imaging mechanism combined with relatively large aperture of the scanning mirrors provide smaller spot sizes compared to
F-Theta based 2-Axis Scanning Systems
Ability to Scan Pre-defined 3D Surfaces
Another unique application for 3-Axis Scanning Systems is scanning three-dimensional surfaces. Orchestrated by the Cambridge Technology's EC1000 controller, the X and Y axes will direct the laser to a point on a two-dimensional work field while the third axis will dynamically focus the laser beam to the corresponding Z position, providing the capability of scanning predefined three-dimensional surfaces. Relatively small movements of the DFM will correspond to large focal shifts at the target plane due to optical leverage of the imaging system. Using this leverage, 3-Axis Scanning Systems can perform 3-dimensional scanning and field flattening for each work plane simultaneously.
Abilty to Use High-Power lasers
The number of processes utilizing High Power Lasers is growing rapidly. Cambridge Technology 3-Axis Scanning Systems utilize pre-scanning objective method which completely eliminates the need for F-theta lenses. Pre-scanning objectives remove the low power handling limits of scanning systems which are usually set by F-Theta lenses. Also, 3-Axis Scanning Systems use relatively large mirrors which allow the delivery of higher laser powers. These two unique attributes make 3-Axis Scanning Systems the most suitable product for high power material processing applications.
Contact your local Cambridge Technology engineer for more information.
You have successfully added from to your part list.
---