Adhesive Laminating Services
Service Detail from Can-Do National Tape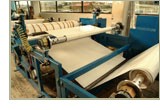 Can-Do National Tape specializes in adhesive laminating services and has two laminators that can laminate substrates up to 62" in width.
The 'Can-Do Difference' allows us to meet all your laminating needs. We specialize in:
Laminating foils - high temperature adhesive and polyester fabrics
Laminating foams -open and closed cell, double sided polyester and transfer adhesives.
We also are able to economically laminate materials that are less than 62" in width using a variety of rotary presses with heated rollers in addition to two and three rewind stations and take-up stands.
Can-Do incorporates heat into the laminating process with nip roll gapping. The nip roll allows lamination of products of various thicknesses. The state-of-the-art heating systems ensure a consistent bond across the web. When coupled with a programmed counter, the correct yardage is put-up on each roll.
---