Tape Converting Services
Service Detail from Can-Do National Tape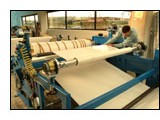 Can-Do National Tape offers a variety of tape converting services for pressure sensitive adhesive products, with attention to detail and a focus on quality.
Tape converting is the process of transforming a general product into something more specific. Here are several examples of this as it relates to converting pressure sensitive adhesives:
Jumbo rolls of tape, 60 inches wide by 1,000 yards in length, may be transformed into individual two-inch by 60-yard rolls of tape.
Aluminum foil may be laminated with a specialty adhesive. Then, this material may be slit to a certain width and transformed into rolls of aluminum foil tape, or it may be die-cut into shapes that may be used as a foil shield.
Various materials may be slit into rolls and then cut to specified lengths. The resulting product is a strip of material that may be used for many purposes.
Printing several colors on carton sealing tape is considered converting because long length wide rolls of polypropylene tapes are transformed into standard length rolls printed with the custom design or logo requested.
Foam may be laminated with a specialty adhesive. The foam rolls may be converted to custom sizes and used in a variety of manufacturing applications.
Can-Do National Tape has been converting pressure sensitive adhesive tape products for 10 years. Converting tapes requires special machinery, and Can-Do has a variety of equipment designed to perform specific functions in the conversion of pressure sensitive adhesive products. Specifically, we own tape-slitting machines, slitter/rewinders, rotary die presses, steel rule die presses, laminators, sheeters, and printing presses. All of these machines provide extensive converting capabilities.
Can-Do has the capability to produce prototype parts based on technical drawings. Material specifications allow us to source the best and most economical products for the application. Knowledgeable sales representatives and a responsive production workforce ensure customer satisfaction.
Can-Do is ISO 9001:2008 Certified. Talk to the people at Can-Do before you let someone else handle your converting needs. Odds are that person will be calling Can-Do anyway.
---