Full Line of LMI Pumps with Many Models in Stock
Product Announcement from Cannon Water Technology Inc.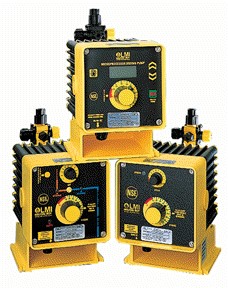 At Cannon Water Technology, we carry the full line of LMI pumps, LMI controllers and LMI equipment. Liquid Metronics Inc. manufacutres a full product line of LMI pumps, LMI cooling tower controllers, LMI boiler controllers and LMI pH controller. We can help you with your custom application and guide you in the proper sizing and selection of your LMI chemical feeders and monitoring equipment.
LMI chemical pumps are capable of injecting a variety of chemical solutions into pressurized lines by using high pressure diaphragm metering pumps. The LMI pump uses an electronic pulsar that moves the diaphragm style chemical metering pump in a way that is useful for a variety of pumping system applications. Some uses of the LMI chemical metering pump are: Cooling tower pump, boiler chemical feeder, chlorine pumping, soda ash pump, pH neutralization system, chemical feeder, chemical injector, polymer pump.
LMI Controllers are suitable for cooling tower control and steam boiler control. LMI pH Controllers are great for pH adjustment and acid pump controller. The LMI controller DC4000 Boiler controller is perfect for water treatment systems that are controlling boiler blowdown and boiler chemical pump control. The DC4500 controller is perfect for cooling tower chemical controller and will operate the cooling tower blowdown solenoid valve or motorized ball valve for cooling tower bleed system. A DC4500 controller can operate the inhibitor feed pump and two biocide pumps. The DP5000 pH controller is used for pH monitoring and pH chemical control. The DR5000 ORP Controller is very similar to the DP5000 described above, however, it is designed to control LMI Metering Pumps for the addition of oxidizing and reducing agents. It shares the same features and options as the DP5000 and is often used in water and wastewater treatment, fruit processing and metal finishing.
We have highly competitive pricing and many model are in stock and ready to ship.
Visit our site to see addition details on LMI Pumps, Controllers and Accessories - http://www.cannonwater.com/Products/LMI/lmi.html
Shop for LMI products and more in our online store - http://www.cannonwater.net/search.aspx?manufacturer=17
---