Ultra C Iron Bacteria Control Solution
Product Announcement from Cannon Water Technology Inc.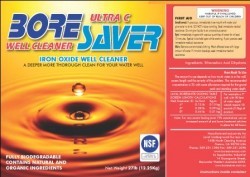 Boresaver Ultra C 27lb Box Boresaver Ultra C Iron Oxide and Iron Bacteria Control...
Bore Saver Ultra C cleans the rusty iron oxide residues that build up in wells, bores, pumps and pipes.
When iron oxide residues build up in the well/bore, production drops and maintenance costs can spiral out of control. The slippery orange iron deposits are due to the conversion (oxidation) of dissolved iron by naturally occurring bacteria (I.R.B.). It is not only unpleasant for the operators but, more importantly, it is indicative of a system that is steadily becoming constricted, inefficient and expensive to maintain. Iron oxide residues affect stainless steel as well as cast iron and the various different types of plastic groundwater pumps.
Safe & Easy To Use
The active ingredients are organic and fully biodegradable. Nothing enters the production stream. Treatment solution is flushed to waste after cleaning.
You'll find additional product details on the Cannon Water Technology website including pricing details.
---