Flex 500 Plus from Caplugs
Product Announcement from Caplugs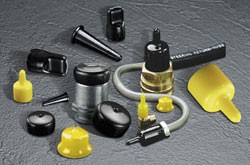 Flex500PLUS is an innovative material specially formulated for the masking industry. Masking parts must combine flexibility and ease of use with resistance to the high temperatures and corrosive environments of most finishing processes.
Independent third-party testing supports our published claims of Flex500PLUS successfully performing under intermittent service temperatures up to and beyond 500°F.
Standard Dip-Molded Products
Our standard line of dip-molded Flex500PLUS parts offers temperature resistance beyond 500°F in a wide variety of sizes and styles.Available for immediate shipment, our standard Flex500PLUS line is offered in black for traditional finishing processes and yellow for infrared processes. For applications that require a uniquely designed part, we have full in-house custom dip-molding capabilities and will work with you to meet your specific needs.
Founded in 1948 in Buffalo, NY, Caplugs has been a leader in the product protection industry for almost 60 years. In 2003, Caplugs' parent company purchased Niagara Caps & Plugs to bring two of the industry leaders together to form the largest, most expansive offering of product protection solutions. The combined organization now boasts manufacturing locations including Buffalo, NY, Erie, PA and Los Angeles, CA.
---