Chillers, Ovens, Furnaces, & Temperature Chambers
Product Announcement from Capovani Brothers Inc.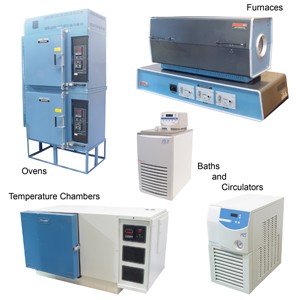 Heating and Cooling Equipment
We have a large selection of heating and cooling products by leading manufacturers.
Baths and Chillers we offer sale:
Baths
Circulators
Heat Exchangers, Water to Water
Immersion Coolers
Each product is tested and repaired to meet manufacturers' specifications. Most chillers are refurbished by our in house licensed refrigeration technician. This includes new air-cooled compressors, rebuilt pumps, new pump motors and environmentally friendly refrigerants.
Manufacturers include Fisher Scientific, Haake, Lauda, Lydall Affinity, Thermo Neslab, and VWR Scientific.
Ovens we offer for sale:
Clean Room Ovens
Gravity Convection Ovens
Inert Gas Ovens
Mechanical Convection Ovens
Vacuum Ovens
All ovens are tested to meet accuracy and stability of control published by the manufacturer. Mechanical convection ovens are ensured to comply with the manufacturers' specifications for flow rate. Vacuum ovens are guaranteed free of leaks which will hinder performance. Helium leak checking is performed when necessary.
Manufacturers include Blue M, Delta Design, Despatch, Lab-Line, Lindberg, Napco and VWR Scientific.
Furnaces we offer for sale:
Box Furnaces
Tube Furnace
Vacuum Furnaces

Our furnaces are ensured to have intact and operable heating elements. Heating elements are replaced if unbalanced and worn. Refractory material is guaranteed free of defects which will hinder performance. Additionally, furnaces sold with controllers are ensured to meet manufacturers' specifications for ramp rate and stability.
Manufacturers include Blue M, CM Furnaces, Cress Manufacturing, Lindberg, and Mellen.
Our website is updated daily and contains a live inventory of all heating and cooling products we have available. There are detailed descriptions and photos of the equipment. You can inquire directly through the website on a product of interest.
---