New Industrex Software V4.2 for HPX-1 Users
Product Announcement from Carestream NDT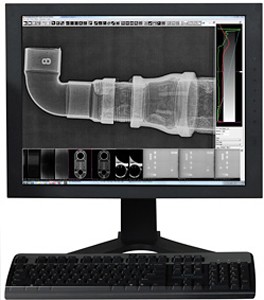 Carestream NDT knows that in order to maximize performance on the job, HPX-1 users constantly need new innovative tools. Unlike many CR companies, we are always hard at work to bring our customers new tools for optimizing their HPX-1 Digital CR System performance such as the Diagnostic Tool, Plate Carrier and Flex XL Blue high resolution plates. Now, Carestream is proud to announce the release of a major software upgrade: Insustrex V4.2 Software.
With Insustrex V4.2 Software you can upgrade the performance of your equipment with cutting edge technology and tools such as:
• The EDGE Filter; offering 8 sets of parameters, based on settings found to be most useful in practice. Enables the user to view an image with increased detail and clarity.
• A Wall Thickness Measurement Tool finds the outer and inner walls and calculate the thickness between them.
• A Measurement Reticle that provides measurements of radial distance from a central point.
In addition to these three new tools, there are many more features to explore in the Industrex V4.2 Software that now meet the unique demands of our customers.
---