W-Series Totally Submersible Rocker Switch
Product Announcement from Carling Technologies, Inc.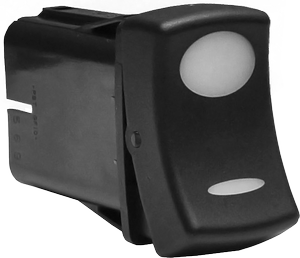 Carling Technologies set the standard for performance, reliability and aesthetics with the widely successful, often imitated, but never duplicated, V-Series rocker switches. Carling has once again raised the bar with the fully sealed W-Series.
The W-Series traditional appearance features complete IP68 protection, even below the panel, where the critical connection is made from your wiring harness. When used in conjunction with the integrated connector, the totally submersible W-Series provides a seal for up to ten individual wires, assuring compatibility with even the most complex circuitry.
The W-Series also offers a wide variety of accoutrements including endless illumination options featuring dual level and multicolor LEDs, progressive and hazard warning circuits, ratings up to 10A 24V, choice of paddle, rocker, locking or laser etched actuators, hundreds of standard legend choices and the electrical performance and reliability that is the hallmark of Carling Technologies products.
Connector with Twin Locking Tabs - Provides sealed water tight connections as well as simple removal using only your hands.
Tri-Seal Design - Affords IP68 protection for the entire switch including terminals and connector
An Easy Retrofit - W-Series fits industry standard mounting hole .830 x 1.450
Functionality Under Extreme Conditions - Roller pin mechanism is lubricant free, withstanding temperatures from -40°C to + 85°C.
Proven Switch Mechanism - Butt-Action contacts are available in a wide variety of circuitry and platings to accommodate most any application.
---