Product Announcement from CARLO GAVAZZI Automation Components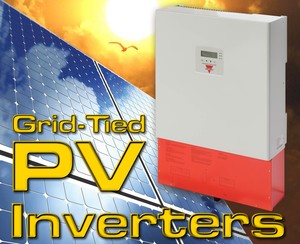 CARLO GAVAZZI has launched our new range of Grid-Tied PV Inverters. The ISGA Series features a transformerless design, which does not incorporate or require a cooling fan. Naturally, cooling fans have moving components which ultimately will fail, therefore their exclusion in the design leads to a longer, maintenance-free product life span. This is merely one of the reasons why the PV inverters are available with a warranty of up to 10 years.
The ISGA Series are available in 2kW, 3kW, 4kW and 5kW output sizes with a 240VAC 60Hz single phase output and 6 to 15kW, 120/208VAC Wye or 240VAC Delta, 3-phase 60Hz output. The inverter has an output efficiency up to 96.4%, with CEC ratings up to 95.5%. The ISGA Series inverter has a remarkable input voltage range of 150 to 450VDC, allowing customers to realize a significant increase in AC production time. Some models also offer the ability to connect two individual MPP inputs - again, allowing for an increase in production time. The input is protected from overvoltage, ground faults, reverse polarity and surges.
The ISGA Series inverters feature a user friendly LCD display and are easily installed via a quick-mount bracket. The built-in combination AC/DC disconnect switch also allows for quick installation without the need for a separate externally mounted disconnect switch. They have an environmentally robust and durable powder coated metal housing, with a NEMA3R outdoor rating, and can operate from -4° to 122°F (-25° to +50°C). The inverters also come standard with an RS232 output. However, RS485, Ethernet, USB and Web Server capabilities are available as options.
The ISGA Series are CE marked and ETL approved to meet these standards: UL1741, IEE1547/IEE1547.1, CAN/CSA STD C22.2 No 107.1, FCC Part 15, Class A & B. To recap, in bullet format - here are the product features:
Low MPPT Input Voltage
One or Two MPPT Inputs
High Efficiency Rating
Transformerless Design
Fanless Design
Informative Mimic Panel Display
Free Graphical User Interface Software
RS232, RS485, Ethernet or USB Communications
Quick Mount Installation Bracket
UL1741, CSAC22.2, IEEE1547 and FCC
Up to a 10 Year Warranty
You have successfully added from to your part list.
---