FLAT PIVOT CLAMPS
Product Announcement from Carr Lane Roemheld Mfg. Co.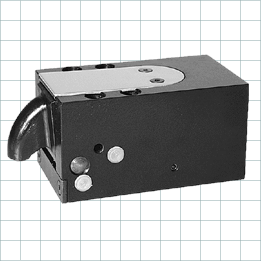 7500 psi max
Double Acting

FEATURES: Pivoting arm rotates completely back for loading clearance. Great new design provides excellent protection against flood coolant, chips, and welding spatter. Compact, flat design with choice of swivel pad or solid radius nose. Pivoting arm is designed to resist side forces at the clamping point. Dual mounting capability: all clamps are ready for standard fittings and manifold mounting. All units are ready for optional position sensing.

SIZES: Available in 2 sizes, each with a choice of swivel pad or radius nose, double acting only — see Dimensions page for part numbers. Clamping force at 7500 psi with swivel pad (force with radius nose is 3-10% lower):

CLAMPING ACTION: Applying fluid pressure to the A (clamping) port advances the piston, which in turn advances the clamping arm via a connecting rod. Switching pressure to the B (unclamping) port positively retracts the piston and the attached clamping arm.

OPTIONAL POSITION SENSING: All units are ready to accept position sensing. Proximity switches can be installed in either the right or left side. Order two CLR-3829-098-PM inductive proximity switches, and two CLR-3829-099-PM right-angle plugs with cable.

MOUNTING: Fasten using four socket-head cap screws.

FLUID CONNECTION: Two 1/4" BSPP ports, A for clamping, B for unclamping. For optional manifold mounting, use the A and B manifold ports underneath the clamp by unscrewing the sealing plugs and installing two CLR-9210-132-F Connecting Inserts (also install two CLR-901-F Port Plugs in the 1/4" BSPP ports). Do not use NPT fittings.

DESIGN CONSIDERATIONS: Although these clamps have a large clamping range, the ideal clamping height in most cases is H3, because arm motion is totally vertical at that height. This avoids applying any horizontal force to the workpiece during clamping. Clamping force at height H1 is approximately 10% greater.

CONSTRUCTION: Housing and clamping arm > Steel.
---