Robust Swing Clamps
Product Announcement from Carr Lane Roemheld Mfg. Co.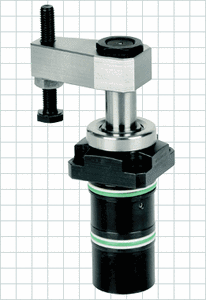 These compact, economical, heavy-duty Swing Clamps have a reinforced swing mechanism and a heavier clamping arm to exert high clamping force in relation to clamp size - especially important at lower operating pressures (450 to 5000 psi operating range). Robust Swing Clamps are also ideal when using longer, heavier custom arms. Top-flange cartridge-type clamps are designed specifically for space-saving manifold mounting. Integral flow-control orifice allows using high-flow-rate power sources without separate flow restrictors. Arm can be mounted to start its 90° swing from any position within 360°.
Available in four sizes, each with a choice of clockwise, counterclockwise, or zero° swing, double acting only.
---