Threaded Body (Micro) Work Supports
Product Announcement from Carr Lane Roemheld Mfg. Co.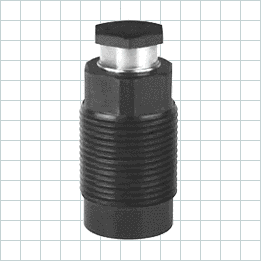 Micro Size - the Smallest Work Support Available Anywhere!
5000 psi max
Single Acting
FEATURES: Work Supports automatically adjust to the proper height for supporting a workpiece, and then lock securely to become fixed rests. Support plunger is held by a precision sliding-fit pressure sleeve that provides incredible accuracy and repeatability. Fluid-advanced Work Supports provide extra loading clearance and are ideal for workpieces that are too light to depress a spring-loaded plunger. The micro threaded-body is the smallest work support available anywhere. Manifold mounting capability allows space-saving low-height installation. Hardened contact bolt furnished.
SIZES: Available in one size, with M26x1.5 metric threads. Load capacity at 5000 psi: 900 Lbs
SUPPORT ACTION (FLUID ADVANCED): Plunger is normally retracted for clear workpiece loading and unloading. Applying fluid pressure gently advances the plunger to the workpiece, where it contacts with light spring force. When fluid pressure is applied, the precision sleeve grips the plunger, locking it securely. The plunger retracts again when pressure is released.
ACCURACY: Height repeatability within +/-.0002". Such excellent repeatability is possible because of two design features: 1) the sliding-fit pressure sleeve holds the plunger absolutely vertical even while unlocked, avoiding any inaccuracy due to locking a tilted plunger and 2) locking force is entirely radial, so the plunger remains absolutely stationary during the locking process. Elastic deflection of the plunger is only .00016" per 100 lbs. machining load.
You have successfully added from to your part list.
---