Beamsplitters Polarizing Cube
Product Announcement from Cascade Optical Corp.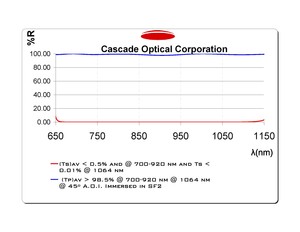 PLATE BEAMSPLITTERS: INTENSITY, DICHROIC, POLARIZING, NON-POLARIZING The transparency range of optical cements used to assemble cube beamsplitters limits their spectral application, roughly to between 200 nm and at the best up to 3000 nm. Plate beamsplitters do not require assembly and their applications are only limited by the transparency of the selected substrate. For example, if ZnSe is used as the substrate, then designs of beamsplitters that operate over range from 400 nm up to 15 are possible. They can be made to split light intensity only (INTENSITY), or to pass one or more spectral bands and at the same time reflect some other parts of the spectrum (DICHROIC), or to pass one state of polarization and reflect another (POLARIZING), or finally to split light without introducing SIGNIFICANT polarization effects (NON- POLARIZING). Any combination of two or all types of beamsplitters is possible in a single device. Plot below shows spectral performance of the plate beamsplitter that can be classified as dichroic since it divides VIS and 1310 nm light and as intensity beamsplitter for 1064 nm.
R >99% @ 1310, Rav < 3% @450-650, & R = T = 50% 3% @ 1064 nm @ 45 AOI
PLOTS NOT AVAILABLE PLEASE VISIT WEBSITE
Non-polarizing intensity beamsplitters over wide wavelength range are mostly designed as hybrid metal-dielectric coatings. For visible part of the spectrum Silver is proffered metal since it provides relatively flat reflectance from 450-800 nm for both polarization states. Next plot shows low-polarizing intensity beamsplitter operating at 45 angle of incidence. THICK RED AND BLUE LINES Rs = Rp = 50% 10% THIN RED AND BLUE LINES Ts = Tp = 40% 10% @ 450-700 nm @ 45 AOI
PLOTS NOT AVAILABLE PLEASE VISIT WEBSITE
Next two plots show spectral performance of the plate beamsplitter designed on ZnSe to reflect 532, 633, and 1064 nm, and at the same time to have low reflection and high transmission at 10.6 at 45 AOI.
PLOTS NOT AVAILABLE PLEASE VISIT WEBSITE
Our labs routinely produce wide variety of both plate and cube beamsplitter coatings
You have successfully added from to your part list.
---