COLD MIRRORS
Product Announcement from Cascade Optical Corp.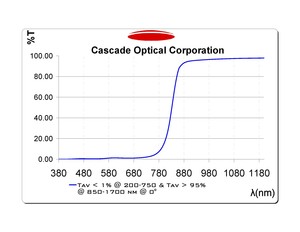 Cold mirrors are a special case of blocking short and passing long waves. Typical "Cold mirror" reflects wavelengths shorter than 700 nm. In this case 830 nm is selected as a half-maximum T point, cut-on point is 800 nm, and 700 nm is cut-off point.
These filters can be use to reduce "noise" illumination in the visible and increase quantum efficiency for NIR detection. They are commonly used in night vision camera systems.
They are also used as IR illumination filtration. One can illuminate an object in the IR without creating any visible evidence of illumination. Then detect the increased IR-spectroscopy gain with an IR camera. This is a so called Covert optical system used in the military.
In addition, UV blocking cold mirrors can be used to maintain the original painted color of art work. These highly energetic photons absorb into the skin depth of the paint and slowly deteriorate the absorbing material over time leaving a faded appearance. One can simply design a cold mirror that blocks the UV and passes the visible spectrum.
It is also very common to have a combination of "hot/cold" mirrors working in conjunction with one another for dental illumination. Behind the light source the reflector is a "cold" Mirror, reflecting only the useful visible light towards the patient and "heat sinking" the NIR. Then, in front of the illuminant a "hot" mirror is place to pass the useful visible light and block "hot" NIR. This combination allows the patient to be illuminated without feeling excessive thermal/electromagnetic heat caused by the powerful light source.
You have successfully added from to your part list.
---