Hot Mirrors-Reduce NIR-Electromagnetic Radiation
Product Announcement from Cascade Optical Corp.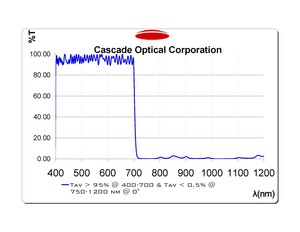 In most applications light sources are powerful (high intensity projection lamps or lasers) and would overheat and warp absorption filters. In these cases transparent substrates have to be used, together with dielectric coatings with a very large number of layers. This plot shows hot mirror typical for applications where image or light detectors are sensitive to "heat".
They are also used to eliminate IR energy that is emitted by the display panel in the cockpit of an aircraft. This is done so that the pilot may see the IR spectrum on the ground with infrared goggles and not encounter interference or "noise" energy generated by the display panel in the cockpit.
It is also very common to have a combination of "hot/cold" mirrors working in conjunction with one another for dental illumination. Behind the light source the reflector is a "cold" Mirror, reflecting only the useful visible light towards the patient and "heat sinking" the NIR. Then, in front of the illuminant a "hot" mirror is place to pass the useful visible light and block "hot" NIR. This combination allows the patient to be illuminated without feeling excessive thermal/electromagnetic heat caused by the powerful light source.
You have successfully added from to your part list.
---