Product Announcement from Cascade Optical Corp.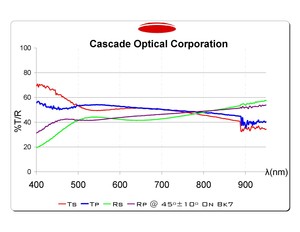 When light hits a substrate or an optical light guide at an angle, the reflectivity is different for light polarized in the plane and light polarized perpendicular to it. Let us define the plane as S perpendicular to it and P lying on it. The light (vector) polarized in the plane is P polarized. And the light (vector) perpendicular to the plane is S polarized. When S & P are propagating at 0º angle of incidence P cannot be broken down into subcomponents and therefore is equal to S. But, at angle polarization effects are induced. There are instances where one would like to split the light intensity and maintain S and P with equal magnitudes.
Polarization effects cause problems in a wide variety of applications. For instance there can be, so called noise distortion in astronomy, polarization dispersion loss (PDL) in fiber optics, and inaccurate measurements in spectroscopy (Interferometry).
Our Non Polarizing BS can be made at various angles and wavelength ranges. Hybrid Beams Splitters have very little angle sensitivity. We can custom make them as a plate, in air, or imbedded in a cube. Please just let us know your desired specifications. We will be happy to make a coating that is custom tailored to your needs.
You have successfully added from to your part list.
---