Product Announcement from Cat Pumps - High Pressure Pumps & Systems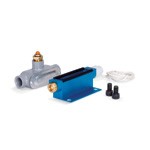 The new LPS monitor is a custom leak detector designed to sense water leaking past the Lo-Pressure Seals as they begin to wear. The LPS monitor alerts personnel that the seals require replacement to avoid unnecessary drive-end damage.
The Pumps with Nine Lives
With over 40 years of experience, Cat Pumps has proven to be the most dependable high-pressure triplex piston and plunger pumps in the market. For fast delivery, we stock repair parts, accessories, pumps and usually ship within 24 hours of order being placed.
Our unique design provides easy field servicing and routine maintenance with no special tools required. Sales and service support are readily available with distributors in every U.S. state, southern provinces of Canada and an extensive world-wide distribution network. With field-proven dependability in applications around the globe, Cat Pumps provides the best value for virtually any complex wash systems. In fact, Cat Pumps still has pumps running after more than 30 years of reliable service. By continuing to invest in new products and technologies, we provide the innovation you've come to expect from Cat Pumps.
By providing proven, quality triplex positive displacement pumps, Cat Pumps has earned a reputation for exceptional product durability and reliability. Industries served include:
• Vehicle Cleaning • The Process Industries • Government & Military • Agriculture • Food Processing • Misting/Cooling/Fogging • Commercial Cleaning • Manufacturing • Oil & Gas • Many More
Customers select our pumps due to the low-life cycle cost, which provides exceptional value over the life of the system.
Cat Pumps' global mission is to exceed every customer's expectation for quality, reliability, product availability, delivery and technical support. This mission is the foundation of our company's ongoing success.
World leader in Triplex Reciprocationg High Pressure Pumps & Systems
Commercial Contractor Cleaning
High Performance Products for Commercial Cleaning Applications:
Industrial Duty Pumps & Accessories for Process Industries
Industrial Duty Pumps & Accessories for the Manufacturing Industry
Industrial Duty Pumps & Accessories for Government & Military Applications
Industrial Duty Pumps & Accessories for Vehicle Wash Applications
Industrial Duty Pumps & Accessories for Agriculture & Food Processing Applications
Industrial Duty Pumps & Accessories for the Mining Industry
Industrial Duty Pumps & Accessories for Misting, Cooling & Fogging Applications
Oilfield, Gas, Chemical Injection
Industrial Duty Pumps & Accessories for the Oilfield, Gas & Chemical Injection Industries
Industrial Duty, Long Lasting, Dependable Pumps
Industrial Duty Pumping System Accessories
Field-Proven Quality, Dependability, Long Life
Dedication to quality has been the foundation of Cat Pumps philosophy since first opening our doors in 1968. From initial design to materials and manufacturing, the central focus will always be providing the highest quality products possible to better serve our customers.
A superior product always begins with a superior design. From the very beginning, our first triplex reciprocating piston pumps introduced two revolutionary design changes to the high pressure pump industry, our patented sleeved-piston rod and our UNFLOW design concept. The sleeved piston rods permit servicing from the wet-end of the piston pumps, drastically slashing service time, eliminating expensive replacement parts and reducing overall maintenance costs. The UNIFLOW design of the piston pumps delivers a continuous, smooth forward liquid flow through the pump and offers strong suction capabilities.
To increase over-all life of our pumps, we have spent significant time and resources researching each individual component. Our proprietary spring reinforced, special lipped seal design offers 3-4 times the life than other seals available in the market place, while eliminating the need for packing adjustment. Components such as our concentric solid ceramics plungers, high strength connecting rods and oversized bearings are designed to withstand the most punishing applications, repeated cycles and continuous-duty operation.
Even a flawless design can prove inferior without the use of quality materials. Over the years our product line has expanded to include materials such as:
Brass
3150 Chrome-moly
Zamak
Nickel Aluminum Bronze
Duplex Alloy
High Strength TNM Alloy
W770 Alloy
The use of all of these different materials ensure that we have a product available to provide the highest level of resistance to corrosion and wear, even in the most harsh environment.
We are also the only triplex, positive displacement pump manufacturer to offer concentric, solid ceramic plungers. Our concentric high density, polished surface have proven to withstand harsh pumping conditions as well as greatly enhance seal life. Our seals are made of a proprietary special blend material that provides unsurpassed quality in the marketplace. We also offer other special blend seal materials to meet any application need.
Cat Pumps manufacturing facility is ISO 9001 certified. We make use of the latest technologies and computer animated machining equipment to ensure each product is of the highest possible quality. We demand closely held tolerances and maintain a rigorous quality assurance program to guarantee a consistent quality product each time.
Each individual pump is factory flow and pressure tested as a final step in our quality process. We frequently take pumps from inventory and life test to ensure that each delivery meets Cat Pumps Quality standards.
These quality components and processes have provided optimum pump life of Cat Pumps' products since the very beginning, earning us the reputation as "the pumps with nine lives". Our heavy-duty industrial quality is evident in pumps that were installed 20-30 years ago still running today. Today we are still striving to improve our products and work closely with OEM's and specialty markets to incorporate custom features, tailored to fit your application needs.
Custom Pumping Systems are referred to by many names. They can be referred to as skid-mounted units, power units, pumping systems, base units, stacked units, pre-packaged systems, aggregates, horizontal pump unit, manufactured system, modular units, pre-assembled pump systems, fabricated systems or multiple pump systems.
Regardless of the name you use, Cat Pumps can custom engineer your industrial pumping system to meet your specific application and installation requirements. With experience in hundreds of different applications, our Custom Systems can be configured to meet any application demands. Each system includes all the required safety and pressure regulation valves to assure optimum performance and safety. We fully test each pumping system and include an owners manual with start-up and maintenance information.
Our custom pumping systems are the quickest way to get up and running with the proper equipment. Please review the information below and let us know how we can assist you with custom system for your next installation.
View the Custom Systems Brochure
You have successfully added from to your part list.
---