Product Announcement from Catalytic Products International, Inc.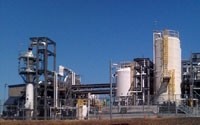 VANGUARD Ammonia Abatement Systems are designed to remove ammonia from either a liquid waste stream or from a vapor exhaust. At the heart of the VANGUARD System is our unique catalytic treatment device. The VANGUARD System incorporates unique features that allow for Ammonia removal from air streams with a very small percentage of NOx formation. NOx formation is further reduced by the use of secondary catalyst systems without the use of costly reactants and chemcials.
PROCESS
CPI designs and manufactures a custom Ammonia Abatement System in one modular package. The VANGUARD Ammonia Abatement System is a combined catalytic oxidizer and NOx reduction system in one. The VANGUARD System can be economically applied with many industrial and chemical processes that exhaust ammonia and organic compounds where NOx emissions are of concern.
The VANGUARD Ammonia Abatement System uses a first stage ammonia removal catalyst deigned to promote a majority shift to nitrogen. A second stage NOx removal catalyst can be used with or without sparged ammonia reactant from the process to provide up to 98% reduction in NOx. The VANGUARD Ammonia Abatement System operates at low temperatures (500 to 700 F) and when incorporated with CPI's recuperative heat exchanger, the system uses very little natural gas.
The system can be matched to our counter crossflow stripper that effectively removes ammonia from liquid waste streams. Matching the stripper and VANGUARD Ammonia Abatement System is an ideal choice for municipalities or industrial users that have limited waste treatment capacity.
The VANGUARD Ammonia Abatement System incorporates a primary heat exchanger for energy conservation, a pre-heat burner for even catalyst temperature control, an ammonia catalyst designed to convert ammonia to nitrogen, and a NOx catalyst bed designed to convert ammonia and NOx to nitrogen. Each component of the system is contained in one package.
The floating plate primary heat exchanger is fabricated of all stainless steel. The counter flow of process exhaust gas with clean oxidized air allows relatively cool operation at the leading edges of the plates. Designing the heat exchanger in this fashion allows the VANGUARD Ammonia Abatement System to operate with a wide range of operational flexibility.
The pre-heat burner has been specially developed for use in VANGUARD Ammonia Abatement Systems operating in a negative pressure environment. The burner is designed to promote mixing of the exhaust gasses with oxygen when fired horizontally into the burner chamber. This innovative design provides the highest degree of flame impingement and high-velocity mixing, leading to airflow and temperature uniformity for which VANGUARD Ammonia Abatement Systems are known.
A specially developed Ammonia Removal Catalyst is used to complete the conversion of the ammonia. The Stage 1 catalytic reaction is simply the ionization of oxygen in air with Hydrogen and Nitrogen molecules in the ammonia. The designed result is the reformation to harmless nitrogen (N2), water vapor (H2O), Oxides of Nitrogen (NOx) and usable heat at low temperatures. The catalytic-induced ionization level for ammonia occurs at temperatures between 450°F and 750°F. This is sufficient to achieve conversion of NH3 pollutants in excess of 99%.
After the Ammonia Removal Catalyst, a second stage of catalyst will be used to promote additional removal of ammonia and reductions of any potential NO + NO2 (NOx). Stage 1 is capable of providing +98% removal of NH3.
A sparge system can be employed to utilize the ammonia rich process gas as NOx reducing reactant. The sparge system will use a blower to draw in the process gas as reactant and sparge this gas after the ammonia reduction catalyst and before the NOx reduction catalyst. The control of the sparge volume will be provided by a NOx and Ammonia analyzer.
Auxiliary systems can be included based on the exact needs of the application. A countercurrent air stripper is used to liberate the ammonia from the liquid and convey the ammonia to the vapor form. These systems are commonly used with municipal or industrial sources that do not have sufficient waste water treatment capacity.
A water loop heat recovery system can be mounted after the VANGUARD Ammonia Abatement System which is designed to recover heat into the stripper liquid feed water. The heater will transfer heat energy to the LFW thereby improving the stripping efficiency.
A reaction control system can be employed that constantly control the liquid waste to appropriate pH levels to insure effective liberation of ammonia from the liquid waste to the vapor exhaust.
A booster fan draws the ammonia exhaust into the system at a fixed duct static pressure. From there, the contaminated gases are passed through the VANGUARD Ammonia Abatement System. The system is under constant negative pressure which eliminates fugitive leaks to the surrounding area. The resultant clean, gases are redirected either to the air stripper or are released to the atmosphere.
Integral Continuous Emission Monitor can be employeed to precisly control the amount of reactant to used as sparge gas. This system helps to drasticlly lower both the NOx and ammonia slip.
FEATURES
CPI has concentrated our more than 43 years of experience, knowledge, and innovative air pollution control solutions to offer the world a high quality line of catalytic oxidizers designed to meet the most stringent compliance requirements. VANGUARD Ammonia Abatement System's meet today's environmental challenges by using the most cost effective manufacturing techniques to bring to industry reliable pollution control systems that offer lower capital costs, simplified installations, and minimal maintenance.
VANGUARD Ammonia Abatement System's exceed today's air pollution control needs with:
Integrated Design
Integrating all the major components into one unitized system saves on field installations, improves reliability, and lowers the overall costs for air compliance. The VANGUARD Ammonia Abatement System utilizes only the highest quality components; from the all stainless steel mixing and combustion chambers, the heavy duty all stainless steel heat exchanger, the specialized burner system, to the proprietary catalyst beds, every component is contained within a well insulated - maintenance free exterior designed for long life and low costs.
Catalyst
Each VANGUARD Ammonia Abatement System is custom engineered and built for maximum performance and flexibility. Therefore the catalyst is selected based on the ability to provide the highest performance and longest life. The catalyst is a propriety blend of proven chemistries for ammonia conversion and minimized NOx formation.
Thermal Efficiency
VANGUARD Ammonia Abatement Systems lead the industry with the lowest operating costs. The primary heat exchangers are made of all high grade stainless steels and incorporate our unique floating plate expansion system. This unique design provides for long life, high efficiency, and the ability to accommodate the highest solvent loads. VANGUARD heat exchangers can be designed with thermal efficiencies up to 85% and can be equipped with fully automatic hot gas or cold gas bypass dampers for flexibility to changing conditions. Auxiliary systems such as fluid heaters and recirculation systems further reduce the operating cost of the system.
Interior and Exterior Construction
The VANGUARD Ammonia Abatement System is fabricated entirely of stainless steel alloys designed to prevent embrittlement and fatigue. The entire unit is continuously welded to eliminate leakage and provide the highest uptime reliability. All the interior components are fully insulated with a high quality lining system designed to reduce heat losses for continued energy savings.
All components are accessible from the outside to provide easy maintenance and internal inspections are accommodated via access doors in all appropriate areas. The VANGUARD's exterior is clad with heavy gauge aluminum corrugate to provide durable - maintenance free protection in any environment.
Temperature Safety System
Every VANGUARD Ammonia Abatement System is integrated to our customized PLC-control panel called TSS. TSS communicates with the VANGUARD Ammonia Abatement System and your process for optimal performance, safety, and reliability. TSS optimizes fuel efficiency by managing temperatures, controlling drives, and positing valves. This user friendly system provides automated operations, one button start-stops, self diagnostics, and data monitoring options for simplified maintenance and compliance verification. Catalytic Products International, Inc. has vast processor experience and can integrate any industrial processor into your operations.
Optional Features
Tandem set-up for multiple VANGUARD installations
Countercurrent air stripper for use in liquid waste removal processes
Recirculation loops for reduced operating cost
Fluid Heat exchanger bypass dampers
Integral Continuous Emission Monitoring control
Multiple fuel blends or oil fired combustion systems
You have successfully added from to your part list.
---