Diesel Generator Sets (9 kW to 17,460 kW)
Product Announcement from Caterpillar Electric Power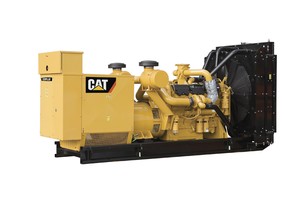 Caterpillar is the world's largest manufacturer of high-speed, 50 Hz and 60 Hz diesel generator sets, with ratings from 9 kW to 17,460 kW that offer the largest range of specifications available. Powered by Cat® engines, these generator sets are easy to specify, permit, install and test, delivering excellent transient response and steady state performance.
Engineered for prime, continuous and standby use, Cat diesel generator sets offer world-class fuel efficiency and low life-cycle costs, meeting emissions compliance for most major worldwide regulations.
Available exclusively from your Cat Dealer, Olympian™ diesel generator sets with ratings from 9 kW to 750 kW are simple to install and easy to operate. Olympian generator sets supply high performance and proven reliability while complying with most worldwide emissions regulations.
Cat and Olympian diesel generator sets are backed by the Cat dealer network, which offers round-the-clock service and support at more than 1,800 branch stores in 200 countries.
For additional information, visit our website.
---