13G Clock Recovery Unit
Product Announcement from Centellax, Inc.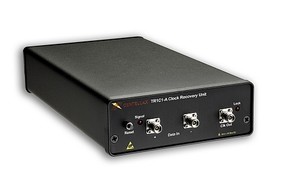 The TR1C1-A recovers a full-rate clock from a continually variable electrical serial NRZ input stream with datarates from 622Mbps to 13.5Gbps. The unit has differential inputs, a single-ended output, and a GPIB interface that allows automated use in a controlled lab environment.
The Clock Recovery Unit generates high quality clocks with very low jitter generation (residual phase noise). The CRU has user-adjustable PLL loop bandwidth and is incredibly easy to use with the autosearch function. The CRU is an excellent companion to the TG1B1-A: 10G BERT.
Key benefits and features:
Low cost, high performance
Small compact size (1.5 x 4.5 x 7")
Wide operating range (0.622-13.5G)
Good input sensitivity
Low residual jitter
Differential input connectors
GPIB programmable remote interface
---