Wow! 300 Million Springs in Stock
Product Announcement from Century Spring Corp.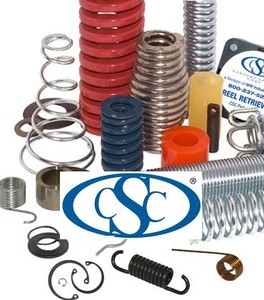 The most extensive inventory with over 30,000 types and designs. From Aerospace to Prosthetics and Electronics to Ship Building Century Spring offers product & service excellence. We guarantee shipment of your stock spring order within 8 hours of placement. Order online ........or request a 400 page print catalog
CSC IS THE COMPLETE SOURCE FOR ALL YOUR SPRING NEEDS. If for some reason you can't find a stock spring for your application, or would like to match a competitor's spring not offered through this website, CSC's engineering staff is ready to answer your questions or assist in designing the right spring for your application. All this can be accomplished under one roof utilizing our custom manufacturing capabilities
CSC GOES ABOVE AND BEYOND just stock industrial springs by providing several specialty divisions to further assist our customers, including:
Custom Division for parts not found in our stock inventory
Hardware Division for spring assortments packaged for public resale
Garage Door Division for springs and new or replacement hardware for one-piece and sectional overhead doors.
Whether you call us at 800-237-5225 or order online, you will find that Century Spring is the best choice for all of your spring requirements.
---