Disc Springs
Product Announcement from Century Spring Corp.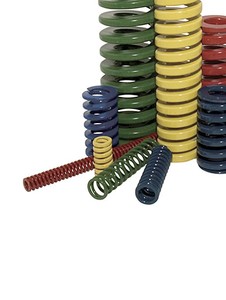 Century Spring Corp. (CSC) offers the widest selection of quality-made disc springs found anywhere in the industry, including:
Contact - serrated, light, reinforced, regular, narrow and wide
Used as safety washers for bolt connections to prevent loosening.
Curved - suited to flexible and light loads - ounces to pounds
Exhibits the most uniform spring constant over widest range of deflection
Wave ('washers') - efficient method of obtaining loads when axial space is limited (from a few to hundreds of pounds)
SP series, stainless flat washers, FL, ML and NDS series flange springs and ball bearing (BB series) springs
Slotted disc and finger springs
Belleville or 'spring washers' are cone-shaped spring discs and are used singly or in stacks to achieve a desired load and travel. In general, they function best under conditions requiring very high load in confined space or short travel. Under these constraints, it is often not practical or even possible to use a coil spring.
Material thickness: .0079" to .591"
OD ranges from .236" to 9.84"
ID ranges from .126" to 5.00"
All of CSC's disc springs are preset high quality spring steels
---