Need Springs? Request our 400 page Catalog
Product Announcement from Century Spring Corp.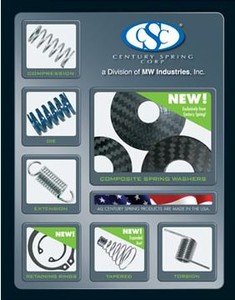 As a manufacturer of custom and stock springs, Century Spring Corp. (CSC) offers a detailed 400+ page catalog of compression, extension, die, drawbar, disc, extension, specialty, custom, tapered, torsion, urethane and constant force springs.
In addition a complete parts listing, a helpful Technical FAQs section and Tech Tips scattered throughout, the catalog also provides a useful Cross-Reference Appendix to national spring manufacturers to simplify and consolidate your purchasing.
CSC is committed to shipping your order COMPLETE, ON TIME, EVERY TIME because they know that delays, split shipments and open POs cost time and aggravation.
To receive your copy of the printed, or CD version of the catalog, email or request a copy on their website
---