Tapered Springs
Product Announcement from Century Spring Corp.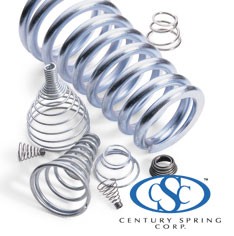 Century Spring Corp. (CSC) stocks a large selection of conically-tapered compression springs. This configuration of spring is characterized not only by its shape, but also by the fact that its rate is normally non-linear. There is a necessary increase in the applied force to compress the spring due to the flexibility of the larger-diameter coils causing progressive contact with one another. This characteristic can be a plus for spring-supported vibrating objects by reducing the resonant (bouncing) amplitudes commonly found in constant-diameter, spring-supported systems.
The conical spring has more lateral stability and less tendency to buckle than regular compression springs. Probably the most beneficial characteristic of this spring is that it can be designed so that each active coil fits within the next coil.
If the needed spring for your application cannot be found in their catalog inventory, they can fabricate it for you.
Round wire range: .010" to .380"
Inside diameter (I.D.) from .054" to 2.740"
Outside diameter (O.D.) from .078" to 5.500"
Materials: music wire, stainless, hard-drawn
Finishes: zinc, gold irridite, black oxide, tinned, none and passivated (upon req.)
---