Product Announcement from Challenge Electronics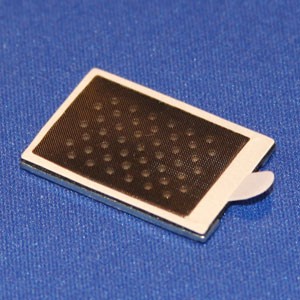 The CES25P17H17-80U Piezoelectric Mini Speaker is made for low power applications with small size requirements. The CES25P17H17-80U is from a new line of waterproof piezo speakers from Challenge Electronics that are popular with mobile device and notebook manufacturers. These speakers are also non-magnetic, which makes them well suited for medical applications.
The CES25P17H17-80U delivers between 86 and 96 dB SPL over the range 750 Hz. to 10 kHz. In the 1-to-4 kHz range, the CES25P17H17-80U delivers 95 ± 3.0 dB (A), at 5.0 VRMS, 5 cm.
Waterproof
Non-magnetic
Dimensions: 25.3 x 17.0 x 1.7 mm.
Rated voltage: 7.0 nom. / 9.0 max.
Termination: Solder Pads
Other models in this series range from 22x15 mm to 30x20 mm with heights from 1.3 to 1.7 mm. Audio outputs for this series range from 92 to 99.5 dB SPL. Please see our website for full product specifications, test data and manufacturing information.
You have successfully added from to your part list.
---