BU - Bushing Valve by Check-All Valve Mfg
Product Announcement from Check-All Valve Mfg. Co.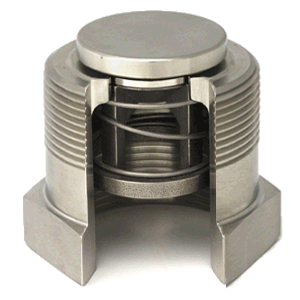 The Bushing Valve (BU, BR) is a check valve with a standard bushing housing. The valve is adaptable to many types of service applications. It has very little restriction and produces a low-pressure drop. It can be used quite effectively in systems where flow and pressure drop are critical by the use of a reducer coupling. The BU valve also makes an excellent vacuum breaker. The high flow rate insures maximum service. By reversing the direction of flow it can also be used as a low-pressure relief valve.
The bushing thread sizes are designated by two sets of numbers; the first being the male thread, the second the female thread. NPT threads are per ASME B1.20.1. Also availabe with ISO 7 "R" (R male x Rp female) threads (BR).
316 Stainless Steel (SS)
Alloy 20 (A2)
Brass (BR)
Carbon Steel (CS)
Alloy B (HB)
Alloy C-276 (HC)
Alloy 400 or Monel® (MO)
---