CB, TC - Sanitary Insert Valve
Product Announcement from Check-All Valve Mfg. Co.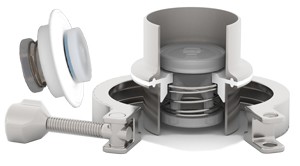 For over 45 years, the compact, PTFE/FEP/PFA, Sanitary Insert Valve (CB, TC) has been used as the most economical solution to providing a check valve in a new or existing sanitary piping system. This valve style is designed to fit into grooved-end clamp-type fittings (ferrules not included). Since the Sanitary Insert Valve replaces the gasket normally used with clamp joints, no extra space is required to accommodate the valve.
Two different types of Sanitary valves are available.
NOTE: Types CB and TC are NOT interchangeable.
They are distinguished by the following designations in the part numbers.
CB - Designates the Waukesha Cherry-Burrell® Q-Line Series of Fittings.
TC - Designates Tri-Clamp® fitting manufactured by Alfa Laval Inc., as well as Waukesha Cherry-Burrell® S-Line Series of Fittings.
---