HT - Horizontal/Vertical Flanged-Drilled PTFE
Product Announcement from Check-All Valve Mfg. Co.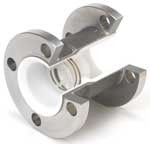 The Check-All Flanged & Drilled - PTFE Lined (HT) check valve is a one-piece body valve with ANSI/ASME B16.5 Class 150 flanged ends. The valve has a solid one-piece PTFE Liner, which covers the flange faces, out to the raised face diameter. All wetted surfaces are fluoropolymer (PTFE/FEP/PFA) including the FEP Encapsulated stainless steel spring.
HT bodies are made of cast carbon steel only. The liner is made of virgin PTFE. It is installed as one solid piece of PTFE and the internal geometrical shape is machined. The PTFE liner has a minimum wall thickness of 3/32 inch which guarantees against pin holes which can be present is fused liners.
---