Chemidisc Chemical Resistant Tank Cleaners
Product Announcement from Chemdet, Inc.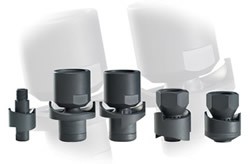 Chemidisc tank washers are made entirely from either pure PTFE, carbon filled PTFE or PEEK™. These rotating disc cleaners are ideal for use in glass lined vessels and in harsh chemical environments where stainless steel and Hastelloy® are not suitable. They are also suitable for the nuclear industry. Chemidisc models constructed in carbon filled PTFE dissipate static electricity and may therefore be suitable for use in potentially explosive applications. 180° and 360° spray patterns are available.
The Perfect Cleaning Tool
Chemical Resistant: ideal for harsh corrosive environments
Total surface wash: fast efficient cleaning
Minimum wash time: reduced down time
One moving part: long life and maintenance free
Versatile and Unique
The Chemidisc offers the powerful economic performance of the Turbodisc, but is manufactured in chemical resistant materials. Unique in design, the Chemidisc has only one moving part, a rotating disc which instantly converts the wash fluid into a sphere of fast moving droplets. Total surface cover is achieved as heavy impinging droplets simultaneously reach the entire surface of the tank, inlet pipe and point of entry where contamination frequently occurs. Internal orifices are large enough for most particles to pass through the tank washer. If partial blockage occurs, operation is not impaired and the rotating disc continues to distribute the fluid in a complete and uniform manner.
Applications
Chemidiscs are available in a wide variety of models and are designed for use in harsh chemical environments or glass lined vessels. Chemidiscs constructed in carbon filled PTFE dissipate static electricity in potentially explosive applications. Pure PTFE Chemdiscs are used in some pharmaceutical and other applications where the product is corrosive to stainless steel.
Their cost effective reliability is recognized by end users, OEMs and contract design companies.
Operation
Wash fluid entering the Chemidisc is directed through a series of holes onto a precision shaped disc. Hydraulic bearings allow the disc to rotate freely at high speed and the wash fluid is distributed into spray. Performance is instant, impingement strong, coverage total. The Chemidisc tank washers are ideal for burst rinsing and can be placed into the tank at any angle.
You have successfully added from to your part list.
---